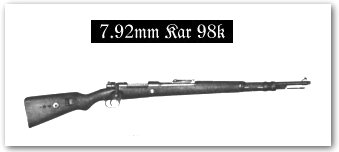 German designation 7.92mm Kar 98k 
Calibre/cartridge 7.92mm x 57 
Magazine capacity 5 rounds 
Length 1107.5mm 
Length of barrel 739mm 
Weight unloaded 3.9 kg 
Muzzle velocity 755 m/sec 

Original manufacturers Mauser-Werk AG, Oberndorf-am-Neckar; Licence (t) and 290 (J): Ceská Zbrojovka, Bruno-later Waffenwerke Brünn; (p) and 298 (J); Czech licence- Polish State Arsenals warsaw and Radom; (ö); Steyr-Werke AG, Steyr (b); Fabrique Nationale d'Armes de Guerre (FN), Herstal, Liège. 

Centres of production 1939-45 Mauser Werke AG, bendorf-am-Neckar.Sauer-Gruppe, Suhl, Gustloff-Werke, Weimar. Steyr-Daimler-Puch AG, St Valentin. Waffen-Werke Brünn (formerly CZ. Brno. 

Remarks: A shortened version evolved from Gew 98 with side sling. Adopted as standard German service rifle 1935,ten years after similar export/licence versions. Late production series made without bayonet mounting bar and featured pressed bands. Captured examples (except Belgium 7.65mm) issued to various first-line formations.